Almond Toffee Petite Tubs
SKU:

#1PetiteTub

UPC:
Almond Toffee Petites enrobed in Milk or Dark Chocolate and individually wrapped, approximately 75 pieces, 2.34lbs.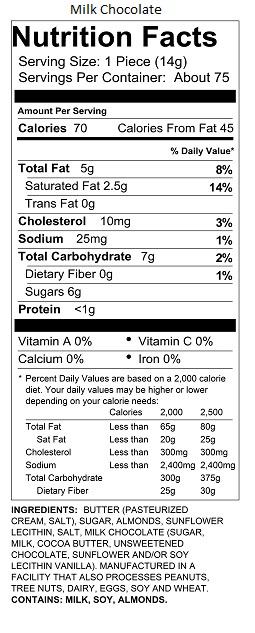 Reviews
12 Reviews
Best toffee ever! What a beautiful present from my sister.

Toffee and Confectionery milk chocolate

Oh my! Addictive is the word. These are so amazing! We have a Bible Study at our house and they have gone missing from my candy bowl too quickly by the hands of some godly people? We purchased these from Costco and cannot get them anymore unfortunately. I think I will have to order from here and soon. Thank you for such a wonderful delight!

Enstrom Almond Toffee in Milk Chocolate

Finest Almond Toffee I've ever had!!! Wish I could buy it in the store! I purchased this at Costco before Christmas. Never saw it there again. Why?

Dark chocolate almond toffee

Oh my goodness! The best!! I received a tub a month ago for my birthday, and I have been rationing it.

Almond Toffee in Milk Chocolate

In our corporate logo, we use gold. So, for my CAMBRIA Showroom, I though these individually wrapped treats would be the perfect sweet to place on silver trays throughout the displays. Besides being beyond delicious, they are beautifully wrapped!

All I can say is, "OH, MY!" This is absolutely the best almond toffee. We received a tub as a Christmas gift in 2021… and I tried my best not to mow right through it, with little success .

This is the best toffee I have ever tasted. Got it as Christmas gift.

Enstrom makes kits of delicious items and these are no exception. The best toffee anywhere.

OMG!This is so delicious

I don't normally write reviews but I must agree with the individual that said this candy is addictive. This is the best toffee I have ever eaten. I made this purchase as a part of a Christmas gift. I hope it makes it to the package. I hid it from my husband but I am afraid he isn't the problem.

Almond toffee in milk chocolate

Toffee is my favorite candy. I consider myself a connoisseur. Enstrom definitely has the best I've ever eaten.

I have to warn you, this toffee is very addictive. I buy it as gifts but then I eat it myself.