Enstrom Almond Toffee Cookies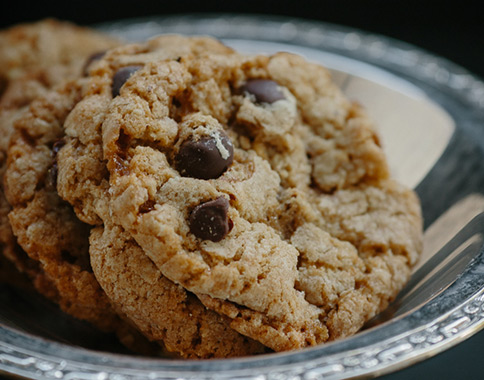 Ingredients:
1 cup butter
1 cup sugar
1 cup brown sugar, lightly packed
2 eggs
1 teaspoon vanilla
2 1/4 cups flour
1 teaspoon baking powder
1 teaspoon baking soda
1 teaspoon salt
1/2 cup old fashioned oats
3 cups Enstrom's Almond Toffee, chopped or 1 lb bag of toffee crumbs
chocolate chips, if desired
Preheat oven to 375 degrees. Cream together butter and sugars. Add eggs and vanilla and mix until fluffy. Stir together flour, baking powder, baking soda and salt and add to creamed mixture. Blend well. Mix in oats and then stir in toffee making sure there aren't any pieces of toffee that are too large. Drop from teaspoon onto ungreased cookie sheet. Bake for 10 to 12 minutes or until golden brown.